I can't say I'm particularly gifted at learning languages. Before Indonesia, I lived 2 years in Italy and 2 years in Brazil, and yet I can barely speak any Italian or Portuguese.
Indonesian, or Bahasa Indonesia as it is called here, is different from any other languages.
There are no tenses, no declension, no tones. There is nothing tricky about the spelling, nothing complex about the grammar, and you always pronounce the words the same way.
You don't even have regional differences: It is spoken identically in Sumatra, in Papua, in Java or in Bali. And best of all, it uses the Roman alphabet.
Put it simply, it is probably the easiest language to learn in the world.
I arrived in Jakarta in November 2018. After one week, I had learned enough words to get by in all the most common situations: Greetings, introductions, ordering food, buying groceries, asking for directions, expressing basic feelings, etc.
After 1 month, I was able to have a normal conversation with any Indonesians.


My new skill has proven extraordinarily useful - either at work, to make friends or for
dating girls
. It is a great addition to my CV also.
I think it is one of the best things about living in Indonesia. If you motivate yourself, you can easily learn its language, the 6th most spoken in the world, in a record 4 weeks.
All it cost me was a small phrasebook I bought in the streets (10$) and a one-month subscription to
IndonesianPod101
(10$ for videos, audios, exercises, grammar lessons, vocabulary lists, etc). Overall, I spent as much time learning Indonesian as I spent watching 2 seasons of The Walking Dead.
In this article, I will tell you how you can do it as well. If you have suggestions, please just leave me a message at the end of the article.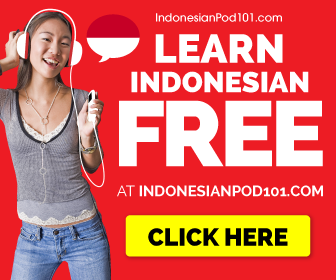 1st step: I got motivated
If you've read this article until now, I guess you are already somewhat motivated. You realize that speaking Indonesian would benefit you, but maybe you are still hesitating because you imagine it requires years of work and practice.
This is not true.
As I mentioned before, learning Indonesian does not require tremendous sacrifices. All you need is to study 30 minutes every day for a month.
With a mobile app, you can practice from everywhere: While queuing at the store, while in traffic, while in the toilet, etc.
As long as you stay focused, you will get results fast, within weeks.
The fact that Indonesian was easy to learn was actually one of the reasons I moved to Jakarta. I didn't want to live in a country where I could not communicate with 90% of the population.
Expats living in China, Japan, Korea, India, Thailand, Vietnam or the Middle East don't have this opportunity. They take private lessons for a year and they still struggle to talk to a local for 5 minutes.

Once you realize how lucky you are, it's time to move on to step 2.
2nd step: I listed and memorized the 250 most useful Indonesian words

Time spent: 6 minutes per day = 3 hours
Learning words by heart is not the most fun part of the process, but it is necessary. The positive thing is that there aren't that many essential words needed to speak Bahasa. I made a list of them that you can read here:
250 Most Useful Indonesian Words
.
What you can do is print the list and read it out loud once or twice a day during a month. Since all these words are very common, you can use a few of them in your daily life: Any encounter with an Indonesian should become an opportunity to practice.
When I ride in a taxi, I always sit in the passenger seat, next to the driver, and I start a conversation. Just simple things: What is your name? Do you have children? Are you from Jakarta? etc. It's a great way to profit from traffic jams, thus turning an inconvenience into an advantage.
3rd step: I downloaded Mondly
and practiced every day
Total time I spent on Mondly: 20 minutes per day X 30 days = 10 hours
A great way to start learning Indonesian is to use
Mondly
. They have both an app and a website with more than 300 exercises. It will help you with vocabulary, basic grammar and pronunciation.
It has
several advantages
:
- You don't need to carry a book and you don't need to write down anything.
- As long as you have your phone with you, you can practice from anywhere, for as long as you want.
- Most exercises are short (less than 5 minutes)
- The exercises are free and they unlock as you finish them. You can also subscribe to their premium version for 10$ per month (monthly plan) or 4$ per month (yearly plan).
Update
:
Click on this link to get a 20% discount on your subscription!
Because Mondly is fun to use and never boring, it was my main tool for learning Indonesian.
If you feel more comfortable with more traditional methods (online classes, tutoring), you can read my recommendations in the article
4 Best (Free) Ways to Learn Indonesian Online
.
4th step: I learned the basic pronunciation
Time spent:
60 minutes.
The Indonesian pronunciation is pretty straight-forward. Letters are almost always pronounced the same way (except "e" that can sometimes be pronounced like "c
u
t" and sometimes like "f
a
te").
You can read this page:
How to Pronounce Indonesian?
for a detailed explanation on how to pronounce each vowel, each consonant and each diphthong.
One of the important things to be aware of is that the final "K" is silent, for instance in "tidak" (pronounced "tida'"). The "R"s are rolled but, if you can't do it properly, you'll still be understood.
Apart from that, there aren't many difficulties. Bahasa Indonesia does not have tones like in Vietnamese, Chinese or Thai, so you don't need to be worried about saying the wrong word unintentionally.
To learn the alphabet, I thought that video was useful:
With the
IndonesianPod101
website, every word you learn will be repeated a few times so it is also an excellent way to improve your pronunciation.
5th step: I understood the basic grammar rules
Time spent:
8 hours
I said earlier that Indonesian grammar was easy. It was a bit of an exaggeration.
There are actually some rather complex rules but, luckily, you don't need them to reach a conversational level.
I wrote a dedicated blog post about this topic called:
10 Basic Indonesian Grammar Rules You Should Know
.
It should be enough for your first month of learning.
If you want to deepen your knowledge, there are a few online resources to help you.
IndonesianPod101
has a huge grammar section with 100+ articles. It is a paying site but there is a free 30-day trial for $1. You can also get 20 videos for free if you subscribe using this link:
IndonesianPod101 - 20 Free Videos
.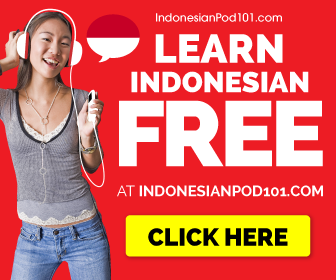 6th step: I practiced with my friends, girlfriend and anyone else available
Time spent:
10 hours
There are no reasons to learn a language if you are not using it, right?
Talking to a local girlfriend is the fastest way to make progress. When I began learning Indonesian, I asked mine to communicate only in Indonesian. She played along, even when sending texts on WhatsApp. It was a bit annoying at first, yet after a week I could understand almost everything she was saying.
If you don't have a girlfriend, maybe you could try chatting with a few girls on dating sites? I wrote a list of
popular online dating apps and websites in Indonesia
that you can check. If you write a profile saying that you are looking for someone to practice your Bahasa, especially on a website like IndonesianCupid, you will get plenty of positive answers.
As I mentioned before, don't hesitate to speak with any Indonesians you meet: Colleagues, friends, taxi drivers, maids, street food sellers, etc. They will feel proud knowing that a foreigner is interested in learning their language and they will be happy to help.
7th step: After my first month, I continued
After my first month of learning Indonesian, I had reached a decent conversational level, but I was still unable to read the newspaper or to understand Indonesian TV. Following a meeting in Indonesian was also still difficult.
Since I was planning to spend several years in the country, it made sense to continue learning.
I did that using the
IndonesianPod101
method. They have over 100 audio lessons for intermediate and advanced learners, organized in an easy-to-follow learning path.
I only did about 30 of them while using their $1 30-day trial.
You can also try
LearningIndonesian.com
. This is a great website, whose resources are often used by teachers. It is a bit expensive ($149 fee) BUT there is a 60-day money back guarantee (no questions asked).
Conclusion: Start today
Indonesia will become the fourth largest economy on the planet by 2045. If you are a young professional planning to spend part of your career in Southeast Asia, learning Indonesian is one of the best decisions you can make.
On a more personal level, being able to communicate with any Indonesians will enrich your stay considerably. You will be able to travel as far as Papua and still be able to have a discussion with anyone.
Now, you can ask yourself: Are all those benefits worth 30 minutes of your time, every day, for one month?
If yes, don't procrastinate. Just start today. Start Now.